Have a penpal, Japanese friend, old host family or co-worker you want to e-mail in Japanese? This guide should be a great reference to impress your Japanese friends. That is, at first at least, but you can also use it to build up your studying to help towards fluency (at least when it comes to messaging).
I find that having a reference to is invaluable, especially because most e-mails, letters and messages you receive from Japanese people are written with lots of complicated kanji. So this guide is written with all that kanji. Don't panic! Even if you're not an advanced learner who understands every kanji under the sun you should still be able to understand everything.
You can use Rikaikun for Chrome or Rikaichan for Firefox to highlight Japanese words so you can understand their readings and meanings. And don't forget all the great Japanese dictionaries out there.
(These are amazingly useful for all Japanese you find online and resources I use a LOT)
If there is a kanji or word you don't know make a note of it and add it to your daily studies. Practice writing e-mails or short messages to your friends or just on Lang-8 as often as your can and that'll really help your writing and comprehension speed.
Layout
There are lots of websites telling you the proper way to layout your e-mail for business, host family or a friend, or even how to layout a hand written letter.
Generally a Japanese letter should be laid out similar to how you would write it in English.
Begin addressing the person you're sending the message to. Followed by a general greeting apologising for messaging them/showing your gratitude (for business), or asking how they are or mentioning the weather (for friends). Then the main body of the letter. Finished with thanks and who it's from. (Two examples for business and friend e-mail at the bottom of the page)
Never leave someone's name blank, always add さん or さま otherwise it'll come across too impolite, even if you know them well. Letters, e-mails and messages are always written formally with ます form (formal), but it is always good to use けいご (very formal) where possible (try not to use short/dictionary form). The following has a mix of the two.
Don't make long complicated sentences, it often works better to keep them short and to the point even if they would normally be long in English.
Opening
拝啓 (はいけい)
Dear
関係者各位(かんけいしゃかくい)
To whom it may concern
___さんへ,
___様へ, (さま)
I.E Andrewさん、Smith様、
Opening Greetings
お元気でいらっしゃいますか。(very formal)
お元気ですか。(formal)
Are you well?
元気にしています。
I am well.
お手紙ありがとうございます。
Thank you very much for your letter.
お久しぶりです。
It's been a while.
早速の返事ありがとうございます。(さっそくおへんじありがとうございます)
Thank you very much for your fast reply.
お返事が遅れて、失礼いたしました。(おへんじおくれて、しつれいいたします)(very formal)
返事遅れて、すみませんでした。(formal)
I am sorry for the late reply.
突然のメール、失礼いたしました。(とつぜんのメール、しつれいいたしました)
Please excuse this sudden e-mail.
お忙しいところ大変申し訳ございませんが、(おいそがしいいところたいへんもうしわけございませんが、)
Please excuse me, I know you're busy but…
いつもお世話になっております。(いつもおせわになっております)(very formal)
お世話になります。(formal)
Thank you for your assistance. (Literally "you are taking care of me")
天気はどんどん暖かくて/寒くなってきました。(てんきはどんどんあたたかく/さむくなってきました)
The weathers slow gotten warmer/colder.
Thanks
心よりお礼申しあげます。(こころよりおれいもうしあげます)
Thank you from the bottom of my heart.
まことにありがとうございます。
Thank you very much.
おかげさまで,
Thanks to you… (used even when the other person hasn't done anything. The idea that in some way karma has worked in your favour due to some kind act of theirs, even if it didn't directly impact you.)
深く感謝しております。(ふかくかんしゃしております)
I really appreciate it.
胸がいっぱいになりました。(むねがいっぱいになりました)
I am incredibly grateful. (Literally "my chest has become full")
とても助かりました。(とてもたすかりました)
You have really helped me.
大変お世話になりました。(たへんおせわになりました)
I am in your debt. (Literally "You have taken great care of me")
Apologies
私の日本語が悪くてすみませんでした。
I am sorry my Japanese is bad. (Used with host family and friends when you first write to them. Even if you're Japanese is perfect it's polite to be humble.)
申し訳ありませんでした。(もうしわけありませんでした)
I am terribly sorry.
お詫び申し上げます。(おわびもうしあげます)
I apologise.
ご迷惑おかけました。(ごめいわくおかけました)
I am sorry for the inconvenience.
大変ご心配をおかけいたしました。
I am sorry for have worrying you.
(Often used if someone sends you a message when you are sick)
お恥ずかしいかぎりです。(おはずかしいかぎりです)
I am embarrassed.
不注意で(ふちゅういで)
Due to carelessness…
Transitions
さっそくですが、
Without delay…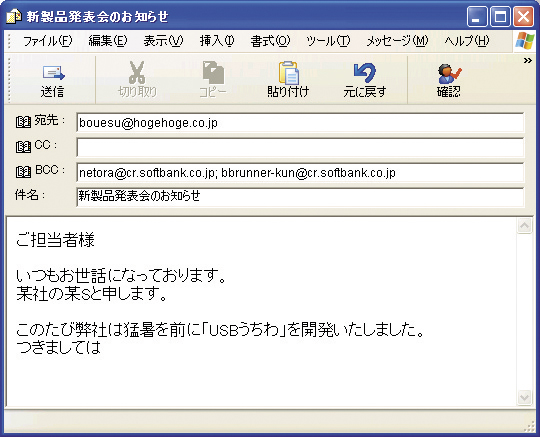 また、
Also…/In addition…
さて、
Now…
ところで、
By the way…
このたび
At this time…
今後は(こんごは)
From now on…
つきましては、
Therefore…
Requesting
~していただけませんでしょうか。(very formal)
~していただけないでしょうか。(formal)
~してくれませんか。 (formal)
~してください。(less formal)
Would it be at all possible if you could…? (Asking a favour)
~いただければ幸いです。
I would be happy if you could…
~については伺いします。(についてはうかがいします)
I would like to ask you about…
~をお送りください。(をおおくりください)
Please send…


Making an Appointment
ご都合のよいお時間を教えていただけますか。
Can you please tell me a time/date that is 
convenient
 for you?
(Normally followed by a selection of times/dates for the other person to choose from)
承知しました。 (しょうちしました)I accept/understand
Other
誠におめでとうございます。(まことにおめでとうございます)(very formal)
Congratulations
~を楽しみにしております。
I am looking forward to
Final Greetings
~によろしくお伝えください。
Please give my regards to…
お返事お待ちしております。(very formal)
お返事を楽しみにしております。(very formal)
I am looking forward to your reply
(No.1 is literally "I am waiting for your reply" and is better suited for business. No.2 is "I am looking forward to your reply")
どうぞうよろしくお願いします。
Best regards / Please take care of this for me
(Used a lot at the end of business letters)
ご質問、ご不明な点がございましたらお気軽にお問い合わせください。
(ごしつもん、ごふめいなてんございましたらおきがるにをといあわせください。)
If you have any questions or queries feel free to ask me.
Final
敬具(けいぐ)
Sincerely
Example e-mails
(These are both made up e-mails)
Host Family E-mail 
山本さんへ、
お元気ですか。
私の日本語が悪くてすみませんでした。5ヶ月間戻っ英国でありましたが天気はどんどん寒くなってきました。日本の天気はどうですか?
あんまり日本語を勉強していませんでしたが、車両会社に翻訳とプロジェクト管理のような雇用しています。来年東京に引っ越す予定です。
来月ローカル図書館に日本の文化のクラスをします。もしできれば日本の葉書を送っていただけないでしょうか。
お返事を楽しみにしております。
Niffer
To Yamamoto-san,
How are you?
I apologies for my bad Japanese. I have been back in the UK for 5 months now and the weather in England is getting cold. How is the weather in Japan?
I have not been studying much Japanese because of my new job. I got a job as a translator and project manager for a car company. I plan to move to Tokyo next year.
Next month I am doing a project at a local library teaching Japanese culture. I was wondering if you could send me some postcards of Japan?
I look forward to hearing from you.
Niffer
Business E-mail
(Now with added keigo!)
Sonyの山田様、
お世話になっております。
下記のAndrewからのメールですが、新道具を使用して書き込みをしようとしたらプログラミングが失敗となりました。AFS Toolを使用してもプログラミングが失敗になりました。ログファイルとスクリーンショットは添付致しました。
起こった失敗はStep 04で失敗しました。
旧道具のプログラミングは成功していますのでこの時点でこの道具が送り返すことはできません。開発が進めなくなります。
この旧道具送り返すとSueから今日メールが有りましたがこの最近の状況から旧道具を事務で残させていただけませんでしょうか。
宜しくお願いします。
Niffer
Sony's Yamada-sama,
Thank you for your assistance.
Regarding the E-mail from Andrew below, when we used the new device for programming, the programming failed.  Even with the AFS Tool, programming failed.  The log file and screen shots are attached.
The failure is occurring at Step 04.
Programming is successful with the old devices so at this point we cannot return this device to you (we will be unable to continue with development).
 There was an e-mail from Sue today that we would return this old device, but please allow us to keep this at the office at this time.
Best regards,
Niffer
Final tip:
When you're writing a letter in Japanese it's actually easier to not write it all in English first. This is because the English won't always directly translate into Japanese and could make your Japanese sentences sound strange. Instead just make a note of what you want to include in your letter and then try writing the Japanese. You can use sites like Lang-8 to get people to spell check your errors before you send it.
Emails and Letters in Japanese